The Ensemble 22 was created by Camilo Córdoba in 2022. The Argentinian musician, who has been living in Brussels for several years, is considered to be one of the most renowned tango guitarists in Europe nowadays.
With an extensive career, he has delved in all styles within the genre, from the traditional danceable, to the contemporary (Piazzolla, Rovira), and the modern and fusion.
Among his best known projects are the famous Violentango (Arg), Sonico (Be), Quinteto Ensueños (Fr). Projects with which he has performed in the most important festivals and venues in Europe, North America, Hong Kong and Latin America.
With this new project, CC Ensamble 22, he proposes a slightly broader tango journey. A game of attraction between tango and other musical styles of Latin America, certain fusions with modern styles, and the flirtation with jazz and improvisation.
The repertoire consists of some instrumental pieces by A. Piazzolla, folk Argentinian music, pieces by modern composers, and more.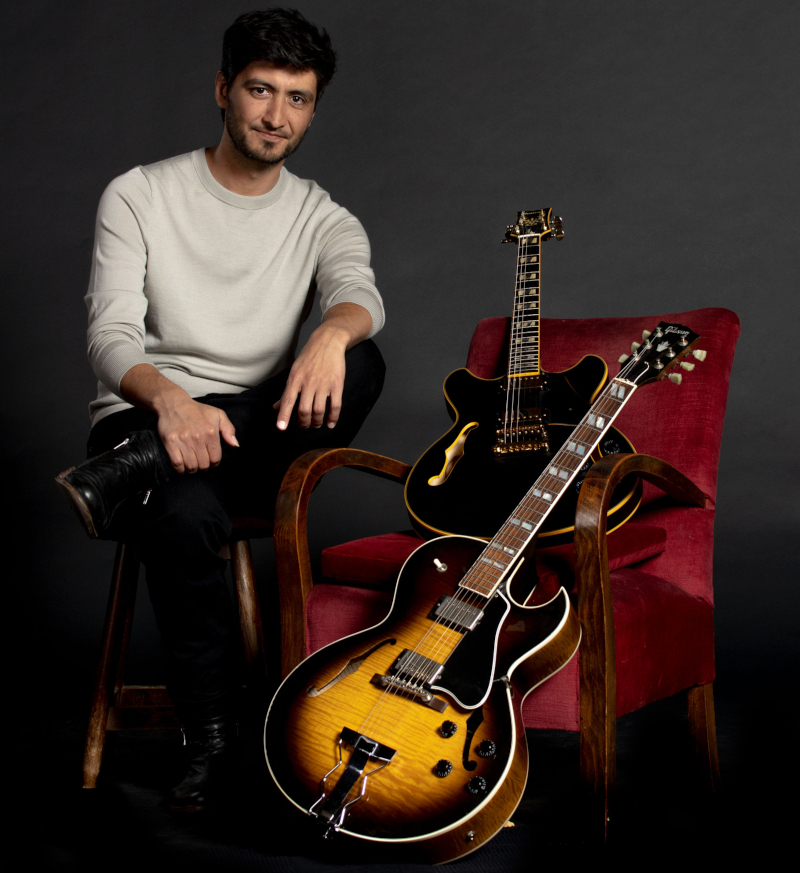 Born in Buenos Aires in 1982 and living in Brussels since 2016, the Argentine musician is one of the most active tango guitarists in Europe today.
During his career as a professional musician, which started around the year 2000, he has mainly dedicated himself to live music with different tango bands (in all its variants: traditional, contemporary and fusion), Latin American music ensembles, and music bands of other genres.
Among his most renowned projects are the famous Violentango (Arg), Sonico (Be), Quinteto Ensueños (Fr). Projects with which he has performed in the most important festivals and venues throughout Europe, North America, Hong Kong and Latin America. (read more)
He has received recognition from the Ministry of Culture (AR), declared "Of Cultural and Artistic Interest" for his quintet (2012); the Ministry of Foreign Affairs and Tourism granted him the status of "Ambassador of Cultural Heritage" (Violentango: part of Argentina's national identity, 2013).
Between 2017 and 2020 he collaborated as a Latin American music advisor for the BOZAR – World music department, where he curated the "100 years of Tango" cycle during the 2018-2019 season, a cycle of concerts related to tango music and its contemporary variants and fusions.
Since 2004 he has participated in about 60 international tours with the group Violentango in South America, Central America, North America, Europe and Asia, participating in festivals such as Glastonbury Festival (UK), Vive Latino (BR), Canarias Jazz (ES), Virada Cultural (BR), Jazz al Parque (CO), Festival de jazz de Savassi (BR), Festival de théâtre international FIT (BR), Paraty Latino (BR), Festival América do Sul (BR), FIA (CR), among others.
In 2016, Camilo Córdoba was invited by the Arenberg-Schouwburg Theatre (Antwerp) to present the "Camilo Córdoba Ensemble" in a unique concert, in collaboration with the Belgian quartet Akthamar Quartet and with the support of the Argentinean Embassy in BENELUX. All the pieces performed were original arrangements by their author and also his own compositions for string quartet and other instruments.
From 2018 to 2022 he was part of the Belgian group Sonico: a quintet dedicated to the recovery, preservation and promotion of the music of Eduardo Rovira, a fundamental composer in the creation of avant-garde tango.
With this project he has participated in several festivals, including « United Music of Brussels » organized by the Monnaie and l'Orchestre national de Belgique, as well as the Brussels Jazz Festival à Flagey, Klara Festival – Bozar, Pietrasanta in Concerto (IT), Tango in Tarbes (FR), CC Belgica, MS Scene Nationale (FR), CC De Grote Post Ostende, Brosella Festival, ProPulse, 30CC Leuven, Great Amber Hall (LT), Casa de la Música (EC), Teatro Mayor (CO),among others.
In 2020 Camilo Córdoba participated as a musician in the choreographic piece The Heart is the Muscle by choreographer Lisi Estaras (Les Ballets C de la B) presented at De Grote Post (Oostende). For this project, residencies were granted to: Tanzhaus Zurich (CH), Operaestate, Bassano de Grappa (IT), MA avec GRANIT, Scènes Nationale de Belfort et Montbéliard (FR), BAMP (BE).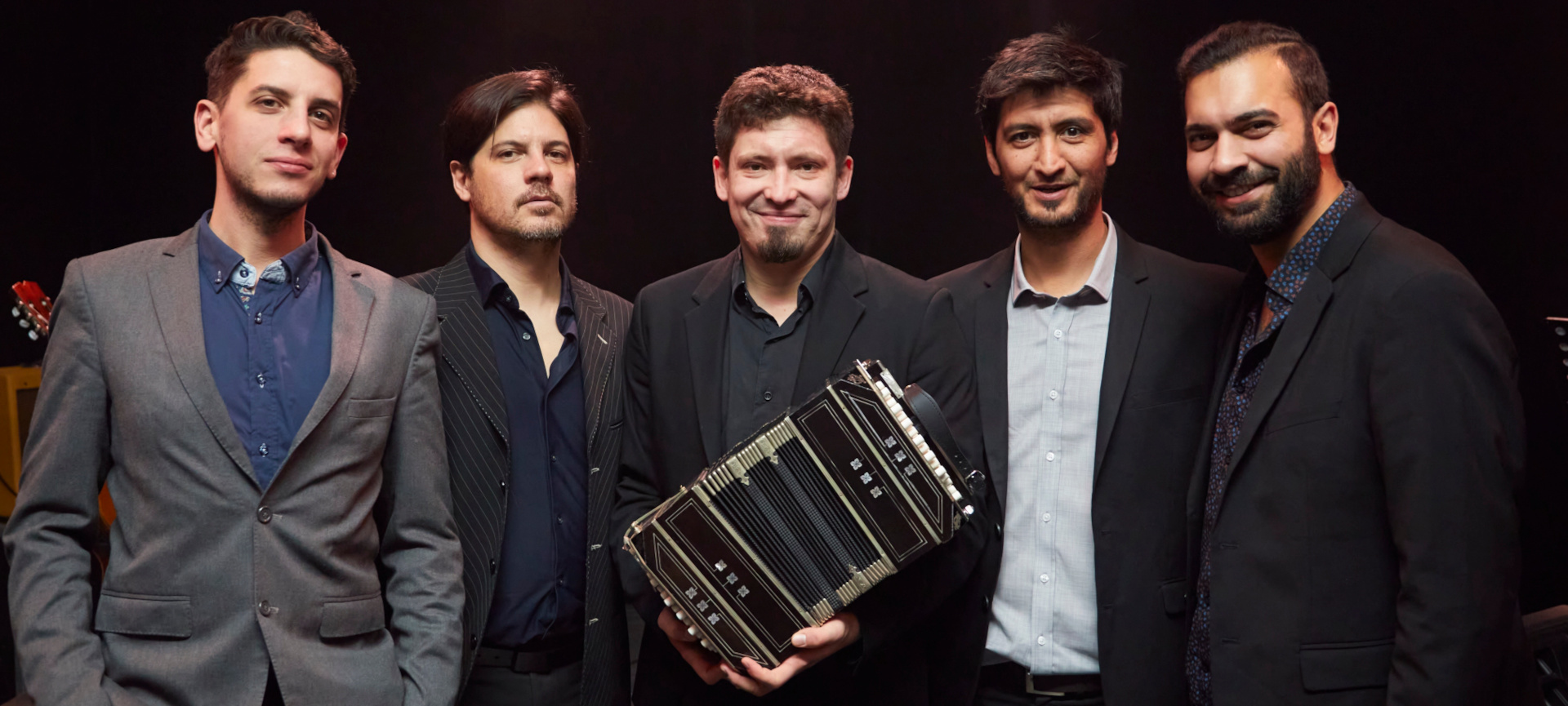 A new association of musicians for the creation of this artistic collective called "Ensamble 22", in which the creative and production forces of its members are combined in pursuit of an associative/group work.
The project is presented in various formats (contact us for more information).
The new show contemplates the promotion not only of the music of fundamental composers and performers in the creation of avant-garde tango, but also of contemporary composers, and of the ensemble's own proposals.
Lysandre Donoso is now a reference in tango and one of the most requested bandoneonists in Europe. He's been accompanying many theatrical works and operas, one with the Orchestre du Capitole de Toulouse; he is playing as a soloist in the Orchestre National de France, and in several European projects; he performs in some of the greatest halls in Europe like the Royal Albert Hall (London), the Elbphilharmonie (Hamburg), the Salle Pleyel (Paris), the Bozar (Brussels) and the Berlin Konzerthaus.
Lysandre took lessons with Hervé Esquis from 2008 to 2011, he created his first ensemble "Nonino Quartet" and he also took part in the musical tango workshop directed by the Silencio Orchestra and Ramiro Gallo in Tarbes for several years.
During 2010, he took lessons with renowned musicians as William Sabatier and Per Arne Golrvigen. He joined the Tango Department of the Conservatory of Rotterdam (Codarts) in 2011, under the teaching of Gustavo Beytelmann, Víctor Villena and Leo Vervelde amongst others.
In parallel of his studies, he has been multiplying the professional experiences: the Silbando Orchestra, the Quinteto Emedea, Roulotte Tango, the Grand Orchestre de Juan José Mosalini, Quatuor Caliente, the Silencio Orchestra directed by Roger Helou, Lalo Zanelli, Sónico, etc..
Lysandre does not limit himself to the tango world. He was accompanying a theatrical work about Frida Kahlo's life with the company Art Toupan during 2 years. He played in two different operas by Kurt Weill and Bertolt Brecht : "Rise and Fall of the City of Mahagonny" with the Capitole Orchestra in Toulouse and "The Threepenny Opera" in the Théâtre Déjazet in Paris. He played as a soloist in several European projects like Mr McFall's Chamber, Ballare : To Dance, the "Misa a Buenos Aires" from Martín Palmeri, the Sinfonía Buenos Aires with l'Orchestre National de France…
Pablo Woiz, is a renowned exponent of Tango and Argentine music in Europe. In his facets of pianist, arranger and composer, he is currently committed to his projects "Pablo Woiz & Milonga Roots" an experimental crossover, where he investigates the origins of the music of Rio de la Plata, as well as his Traditional Tango Trio and Quintett honoring the fundamental value of the dance. He also collaborates with the singer Noelia Tomassi. Woiz has collaborated with legends of the Tango world, including Juan José Mosalini, Luis Stazo, Julia Zenko, Alfredo Marcucci, Quique Sinesi, Alberto Podestá,and Osvaldo Montes He tooks part of the "Tango Pasion show" (Europe-Tour 2009, 2015, 2019) together with the Grammy Winner "Luis Stazo" as well with "Gabriel Merlino´s Sextett" Since 2007 Pablo Woiz, born in Argentina, lives and works in Berlin.
Rodrigo Beraldi developed his artistic training in Buenos Aires before fully integrating the Argentinian National Symphony Orchestra. His experience in the world of tango began very early and took him to the four corners of the globe with some of the greatest tango musicians and ensembles, such as Pablo Agri's Camerata Argentina, Juan de Dios Filiberto Symphony, Osvaldo Piro's orchestra and many others. In 2021, driven by the desire to push his art further, he took an orchestral break in order to continue postgraduate studies at the Royal Conservatory of Liège. Since 2022 he colaborates regularly with the Royal Philharmonic Orchestra of Liège.
Felipe Devincenzi is an Argentinian musician with a remarkable academic background. Graduated from the Universidad Nacional de las Artes (AR), he was a scholarship holder of the Argentinian Mozarteum from 2016, which enabled him to continue his studies in Paris. Following this, he achieved his Master's degree at Rotterdam's University of the Arts. Throughout his career he has joined important musical ensembles such as the Teatro Colón Orchestra of Buenos Aires, the Paris National Opera and the Radio France Philharmonic Orchestra. Since 2018, he's been a fix musician at the Théâtre Royal de la Monnaie. 
He has studied at E.M.P.A (Buenos Aires – Argentina), where he did the Jazz and Tango career studying with maestros such as Anibal Arias and "Chocho" Ruiz; he also took private lessons with Javier Cohen.
He dabbled into composition with Maestros he specifically select because of their original style: Guillermo Klein, Diego Schissi, and Nicolás Gershberg.
Since 2004 he has been part of the "Violentango" quintet as guitarist and composer, with which he recorded 5 CDs, and participate in several international tours in Europe, North America and Latin America; performing at famous festivals such as Glastonbury Festival (UK), Jazz Park (CO), Cultural Virada (BR), Savassi Jazz (BR), Vive Latino (MX), Heineken Canarias Jazz (ES), Nishville Jazz (SR), Para Ti Latino (BR), among others.
He received recognitions from the Ministry of Culture, declared to be as "Cultural and Artistic Interest" for his quintet (2012), and declared from the Ministry for Foreing Affairs and Ministry of Tourism as "..part of the national identity of Argentina, being granted the status of   ̈Brand Ambassadors ̈ for the country." (2013).
Since year 2016 he moved to Brussels, Belgium, where he lives nowadays. There he has joined some other contemporary tango groups:
"Sonico" a Brussels based quintet that celebrates the repertoire of the Argentinian composer Eduardo Rovira. With this group he  has participated in important Jazz, Tango, Classical Music and World Music festivals in Latin America and Europe.
"Tango de Côté" is a trío that performs their own arrangements from traditional tango pieces. 
On July 2018 he has created a traditional tango quintet called "Quinteto Ensueños" in collaboration with some of the best european tango musicians from the new generation.This project works deeply into the different traditional tango styles from maestros O. Pugliese, A. Troilo, H. Salgán, Di Sarli, among others.